MC Chris at Knitting Factory
By Chris Pepper on Wednesday, November 25 2009, 23:30 - music - Permalink
I hadn't been to the Knitting Factory in years -- so long that in the interim, they closed that 'new' location and opened a Brooklyn venue instead.
The openers were I Fight Dragons, who played 'real' instruments as well as various Nintendo controllers (beeping from the standard gamepads, as well as a Power Glove and Power Pad, and Rock Band guitar). The 5 men all wore superhero t-shirts, and the woman wore a Wonder Woman belt (and the Power Glove). Their merch was also excellent.
The second act was Whole Wheat Bread. During their short set a mosh pit formed, and we saw 2 fights. Someone just failed to knock me over. I hadn't seen a mosh pit in over 15 years!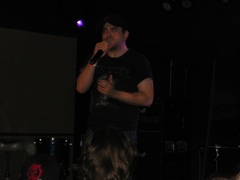 MC Chris performed alone (aside from background recordings, including his own voice -- a bit confusing). His voice was a bit hard to hear, but a solid contingent in the middle of the room knew all the words, so they didn't need to hear him -- not that their singing along made it any easier to hear Chris. Lots of call & response. His lyrics are great, although the spoken self-deprecating (Jewish) humor and his small nebbishy appearance were at odds with the lyrics, which sound like 2 Live Crew smartened up. Last show of this tour.
Godwin's Law: invoked. He did a bit about how dropping some phat beats might have diverted the Nazis from killing Jews. All over the music from "Lowrider".