Scarce at Union Hall
By admin on Saturday, February 23 2008, 11:55 - music - Permalink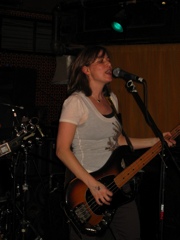 Joyce (Raskin) White is a friend of ours from the neighborhood -- Julia and her daughter Sydney are a couple days apart in age and were best friends when they lived in Brooklyn. A few years ago Joyce, Matt, and Sydney moved to Boston, and we were all sad. Before Brooklyn, Joyce was in a fairly successful rock band named Scarce, but they broke up after a brain injury took Chick Graining (lead singer) out of commission.
A couple years ago, Joyce started writing a book about her experiences growing up as a female rocker, called Aching to Be: A Girl's True Rock and Roll Story. Amy edited the book, and we've been waiting to see Scarce perform ever since.
Tonight they played at Union Hall, just down the street, and we finally got to watch Joyce rock out. It was most excellent, and I got a mess of pictures.